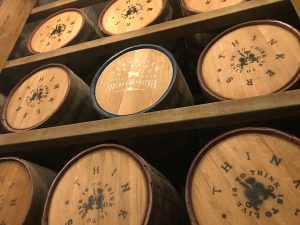 In this age of Corona, some businesses are finding it hard to keep afloat, whilst others are using the time to tweak their products to stay relevant. There are a very few who are making inroads into a competitive market place. One of these is "Thinkers" distillery, founded in 2018, but only really beginning to take off now. Using science and cutting-edge technology, combined with premium raw materials, they claim to create the ultimate gin and vodka experience, with bourbon following only a short way behind. Located steps away from the iconic Mahane Yehuda market, in stylish premises, their target audience is drinkers and connoisseurs of all ages.
The face behind the company is entrepreneur Bennett Kaplan, who explains that the liquor revolution only happened in the latter part of the twentieth century, when world class universities Oxford and Yale started taking an interest. That is when distilleries began sharing their techniques which had previously been heavily guarded secrets. Suddenly the information was freely available and, as a result, true progress started to occur. In fact, the original name for the Israeli company was "Further", because, the way Bennett tells it, they looked at what the other distilleries were doing and expanded their ideas even further.
Thinkers import the raw ingredients from which their spirits are made and their still, a gleaming structure of stainless steel and copper, has been customised to their personal specifications. For example, the addition of computerised sensors inside the distiller, which allow complete control over the level of each type of alcohol, in order to ensure the purest liquor. The water they add to their beverages is 100% blue and white, made out of Jerusalem air, using Israeli company Watergen's patented technology. A generator suctions, filters, cleanses and processes the air, producing a carefully crafted end result. With a potential capacity to produce 1000 bottles an hour, Thinkers definitely mean business. Their distillation room is a bit like seeing an alcoholic equivalent of Willy Wonka's factory!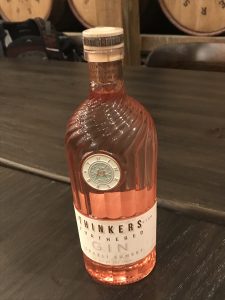 So far they produce two gins and a vodka, with a 55% cask strength bourbon expected to be released in the coming months. "Israeli Sunset" is a new world gin, meaning it doesn't abide by any of the classic gin-making rules. Finzi, a young Israeli of Italian heritage, who guided us through the tasting, reminisced that as a small boy growing up in Jerusalem, he associated the fragrance of strawberries and rose petals (coming from the hot sakhlav) with winter visits to the shuk. They were the smells that permeated the air and those are the flavours, together with citrus notes and a smidgen of liquorice, that you find in the gin. In a classy bottle made of dusky pink glass, to evoke the colour of the setting sun, it looks good enough to drink! It tastes pretty good too.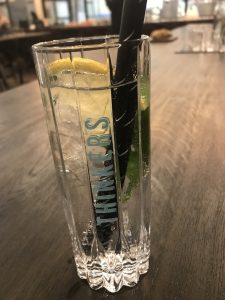 The "Jerusalem Dry" gin is more of a classic, with just a hint of coriander seed and anise to round out the flavour. Served with tonic and lemon and a surprising celery leaf, it was a very enjoyable cocktail. Thinkers vodka also doesn't disappoint and glides down easily, with a very smooth finish. At the moment, Thinkers liquors are only served in 30 select bars, restaurants and hotels throughout the country. In 2021, that is going to change and they will become more readily available. In the meantime, if you would like to check out this new kid on the block for yourself, tastings and events (in accordance with Corona guidelines) can be organised. So, if you are looking for an original laid-back activity in Jerusalem to beat the Corona blues, this could be the one for you!
Helen Cohn is a licensed tour guide with a specialty in wine tourism. She can be reached via her website www.israeldaysout.com.