Sometimes the nicest things come in the smallest packages. The same holds true for wineries. It is no secret that Israeli wines have finally lost their reputation for being sickly sweet, heavy wines used for religious rituals and have been re-branded into delicious and innovative prize-winning beverages. The variety of soils, altitudes and climates in this small country gives aspiring wine makers a fabulous palette as a backdrop for their endeavours. It should come as no surprise that Israel boasts around 300 different wineries. What is something of a shock though, is that the average Israeli only drinks somewhere between 4-8 litres of wine a year and those mainly on the Jewish holidays. Compared to Europeans who drink 40 litres and more annually, we look like tea -totallers!
The many references to wine in the bible testify to the ancient history of wine-growing that exists in this region. Sadly, the fanaticism of the Mamlukes in the Middle Ages wiped out all vestiges of the indigenous strains of grapes, because they uprooted and burnt the vineyards. Recent scientific advances have allowed us to rediscover and reintroduce some of these varieties. It is hoped that attempts to grow these grapes in their original locales will allow us to recreate the wine of yore that our kings and prophets enjoyed.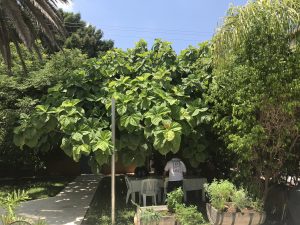 Most of the wine currently produced in Israel is made by five large companies, each of whom produce over two million bottles a year, which accounts for about 80% of sales. At the other end of the scale are the "garagistes", very small wineries which in many cases literally operate out of someone's garage and produce a few thousand bottles of wine annually. Often the wine they sell is only available on site, or in a few select locations. Unlike in Europe, where the grapes for wine and the industry as a whole is heavily subsidized, Israeli wine makers do not have financial support from the state and that is one reason why our wine cannot compete in the price stakes. It is also the reason that if someone decides to go into wine production here, they really have a love for what they are doing.
Malkiel and Dina both completed prestigious careers, he in hi-tech and she as an engineer at Israel Aircraft Industries. When they retired, they decided to learn how to make wine together. After completing their training and studies, they opened Gito Winery. A small room combines their office and the testing lab, their garage is the fermentation room and a third room is their cellar where they keep the barrels and bottles. The shade provided by a magnificent ficus tree in their Hod HaSharon garden is their "visitors centre". That's it.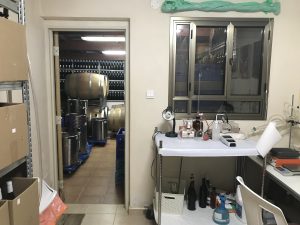 Nevo was afflicted with the wine bug at a younger age. A former truck driver, who lives on a moshav in the Jerusalem Corridor, he initially learned how to make wine from his aunt. She had come to stay with Nevo when she was diagnosed with cancer and needed frequent access to Hadassah hospital in Jerusalem. As she lived in the north of the country, she moved in with Nevo and his family during her treatment and, for relaxation, made homemade wine. He was smitten and when his aunt recovered and moved back home, he took his interest to a whole new level and studied how to become a professional wine maker. His winery is in what was once the moshav kindergarten and his cellar is the original bomb shelter! As for his tasting room, he built it entirely himself.
Nevo grows his own grapes on the moshav and knows each vine intimately. He spends a lot of time in the vineyards maximizing the potential of each grape. He adheres to Old World traditions where techniques in the vineyard before the grapes are harvested largely determine the quality of the wine.  Malkiel, on the other hand, doesn't own his vineyards. He buys grapes from other growers throughout the country and has far less influence over what happens in the fields. However, he is meticulous about which grapes he buys and specifies precisely which rows and the exact position in the vineyard he wants his grapes to come from. He also enjoys experimenting with different combinations of grape varieties and fermentation techniques to shape the taste of his wine. Dina has the final word when it comes to flavor and final composition of blends.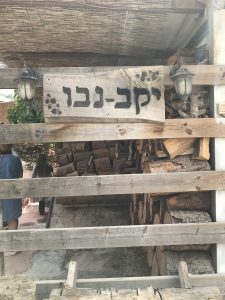 Wine making requires a huge investment of both time and resources. In most cases it takes at least ten years (and often longer) before there can be any hope of profit. In this business, dedication and determination are just as important attributes as ability. Both Gito and Nevo wineries are owned and operated by religious Jews, so their wine is kosher and they also abide by all the various agricultural religious stringencies. Perhaps the most impactful of these is Shmitta, the Sabbatical year, which occurs every seven years. According to Torah law, the land must lie fallow for the year and not be worked and the owner may not sell its produce, nor benefit from it beyond what is needed for personal use. Loopholes are sometimes employed to skirt around this stricture, but both Nevo and Malkiel do not make any wine at all from grapes grown during the sabbatical year. This is no small commercial sacrifice and a testament to their commitment and religious beliefs.
Whether it is a red, a white, or a rosé, ultimately the success of a wine depends on the taste of the individual who is drinking it. Going to a "garagiste" winery where you get to meet the winemaker and taste his creation is a very personal experience. Not only are you welcomed into their home environment, but as the business of wine tasting gets underway you begin to connect on a more philosophical and spiritual level. With the proliferation of dedicated "garagiste" wine entrepreneurs from north to south you are guaranteed to meet some inspirational and fascinating people wherever you choose to visit, who, in most cases, also happen to make wonderful wine!