What do you get if you mix a Breslav Hassid with a Frenchman? Well, in this particular case the answer is music. Both gentlemen in question share the surname "Levy" and are descended from the musicians who played in the temple, so maybe it is something in their genes. Laurent Levy is a property developer who saw the potential of a very rundown and neglected area smack in the city centre of Jerusalem. Eldad Levy is a musician with a vision who believes the combination of cadence and harmony can harness the good in people. As a result of their collaboration, Jerusalemites are lucky enough to have a wonderful project and new museum in the completely renovated area that stretches from Yoel Salomon Street to the Italian synagogue.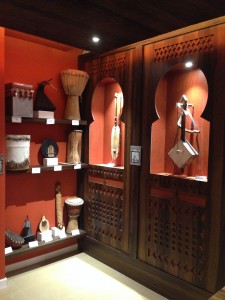 The museum is part of the complex that makes up Music Square, a space that takes the world of music as its theme and has a number of good restaurants, a music club and a lovely outdoor space (covered and heated in winter) where musicians serenade diners as they eat. Future plans include a 400 seat auditorium and a fifty room boutique hotel, where each room will be dedicated to a different Jewish musician.
The Hebrew Music Museum aims to explore how the origins of Jewish music developed. The curators believe it grew out of the local music where Jewish communities lived. For example, if you ask people today what is "Jewish music"? Invariably the answer will include a reference to klezmer. In Europe, this genre evolved from Gypsy music as itinerant gypsies were the troubadours and musicians. When klezmer music made its debut in this country, it first came to Safed where it came under the influence of the local Druze culture and was exposed to the Darbuka (hand drum). Israeli klezmer musicians incorporated it into their melodies, making their version very different from the klezmer music of Europe.
Each of the seven rooms that comprise the museum has a separate theme. Aesthetics are a hugely important part of the experience and every room has its own distinctive style which reflects the background of the instruments displayed there. On a recent visit, we began in Central Asia and looked at instruments that were in use during the time of the 2nd temple. It should be stressed that most of the instruments themselves are not old, but are copies of those that existed during that time period.
The next room we entered has an ornately carved wood ceiling that our guide Yaniv (another Levy, although all of them are unrelated) tells us was carved by the carpenters of the king of Morocco. In the Balkan room the ceiling panels were painted by the interior designer of the Waldorf Astoria Hotel in Jerusalem. No expense has been spared in this beautifully designed space. There are 260 different instruments on display and whilst you are not allowed to touch them unless you are accompanied by one of the museum in-house guides, you can "play" each and every item via a tablet that you are given to accompany you on your tour. There are also a number of games with the instruments which should successfully entertain the younger crowd.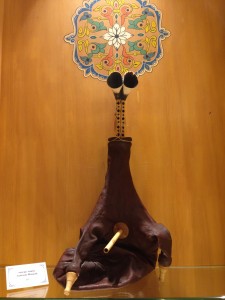 It is fascinating to learn about the background of so many hugely different pieces. For example, the prototype of the bagpipe, that quintessentially Scottish instrument (or so I believed), actually comes from Tunisia, where it was played by the local tea seller to announce his arrival. There are also some very long Indian horns that are reminiscent of the trumpets mentioned in the Torah and various other instruments we hear about in the book of Daniel. I was personally enthralled by the dulcimer, an instrument I associate with the plays of William Shakespeare. Another instrument that caught my eye seemed just like a cricket bat with strings attached! The museum loves to give themed tours and recently offered one based on the instruments mentioned in the Book of Psalms.
We looked at some metal castanets, an instrument which I thought originated in Spain. Wrong again! We were surprised to learn that in fact they come from the region of the Sahara Desert and they developed out of the metal manacles that were put on prisoners…my imagination went into overdrive as I envisaged a motley crew of prisoners clanking their chains and banging their handcuffs to a catchy beat.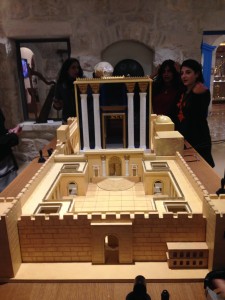 There is one ethnic group that only very recently added instruments to their musical repertoire and those are the Yemenites. According to ancient Yemenite custom, it was forbidden to play any musical instruments after the destruction of the temple because the community was in mourning for its loss. There are still some people that don't play any music (except for drums) at a wedding if it is held in Jerusalem, for a similar reason. When the Yemenites arrived here on Operation Magic Carpet shortly after the creation of the state, they only then started to incorporate instruments into their music. They already had a very strong musical tradition, but until that point it was all vocal and not instrumental.
For me, the undisputed highlight of the visit was a virtual temple tour where you are taken inside the Second Temple into the various different courtyards and rooms and see and hear the sounds and rituals to which only the privileged few had access. With special goggles and headphones you are transported into a totally different reality and even ride in an elevator to the very top of the structure where you get to see the ancient views over Jerusalem.
So, if you are looking for something a little different to entertain you on your next visit to Jerusalem I would suggest a stop in this fascinating new attraction.