I recently had one of those extraordinary "only in Israel" moments which make living here so special. As many of you know, when I take tourists around the country I like to try to introduce them to experiences or cultures they have not encountered before. One of my favourite people to visit is Nurah, who lives in Daliyat al Carmel, a Druze village just outside Haifa. Nurah is a wonderful woman who has worked in a number of different professions, including in the hotel business. When the Carmel Forest Spa, one of Israel's premier hotels, wanted to spice up its menu and offer its patrons some local cuisine they came to Nurah for some suggestions.
Together with the head chef Haim Cohen, she came up with a range of authentic, culinary delicacies they would offer as a Druze meal in the hotel. The guests went wild over the food and Nurah found herself in a new job. After a while, satisfied diners asked where it was possible to sample such food outside the confines of the hotel. As it is a spa hotel children are not allowed to stay there and guests wanted to know where they could take their families to enjoy a similar experience. Without missing a beat, chef Haim said "Oh, Nurah offers Druze meals in her home".
When the guests had left, Nurah turned to Haim and said "What have you done"? He calmed her down and assured her she was talented enough to set up her own business. He told her to get business cards printed and when guests asked about the food she should hand out her cards. Two days later he came up to her and said she had her first group booking. In total panic, Nurah agreed to host them in a few days time, working flat out to produce an outstanding meal. When the group arrived it was Haim and some of his friends. At the end of an excellent meal he collected money from all the diners and so "Nurah's Kitchen" was born.
After running her new business for about a year, Nurah began to get enquiries whether it was possible to cater to a kosher clientele. Having previously worked in the hotel, she was familiar with the concept and contacted the local rabbinate. They already knew Nurah and after advising her on what she needed to do to comply with kosher dietary laws, such as having a separate kitchen, they checked that everything was in order and a kosher certificate was on its way. It runs like clockwork; a representative comes in on a daily basis to light the ovens and confirm that all the products are suitable and cooked according to the rules and Nurah couldn't be busier. Providing Druze food with a kosher twist means that the army, the Prime minister's office, the Foreign Ministry and a host of other organizations who frequently entertain guests all put Nurah on their itinerary.
However, Nurah welcomes each and every visitor as if it is her personal privilege no matter where they have come from. "Every guest that visits Israel is our guest", she told me "we want to show them that our country is more than just fighting and war". On my last visit I brought just two other people with me. Nurah agreed to fit us in between the group she had entertained for lunch and the even larger group she was expecting for dinner. Although she was very busy preparing for her next guests, she found time to sit with us and tell us about her background and the business she runs.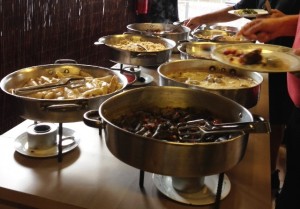 Apart from creating a unique opportunity for visitors to learn something about Druze culture whilst enjoying an extremely tasty meal, she is providing a great service to the women in her village. There is a high percentage of unemployment in Daliyat al Carmel, especially amongst the women. Her kitchen is run as a women's co-operative, giving them an opportunity to work locally and contribute to the family finances. An independent streak characterizes the women in Nurah's family, as her mother was one of the first Druze women to be sent to school to study. In an era where the girls were home-schooled in matters of religion and that was generally where their learning stopped, Nurah's mother knew she wanted more and she persuaded her parents to let her get a wider education. Her father agreed, on condition she studied religious subjects like the other girls in addition to the material in the school curriculum.
When Nurah was needed back in the kitchen to deal with some crisis that had arisen, her sister Frida was only too happy to take her place as raconteuse. She related anecdotes about her family and her childhood and introduced us to Druze philosophy and their outlook on life. The Druze are fiercely patriotic and Frida told us how her grandfather had fought against Arab invading armies in 1948 and how a meeting had been held in the village at which it was decided to join the Israeli army. In 1956, it was her grandfather who was responsible for initiating the law inducting Druze men into the Israel Defense Forces.
Frida has her own story too. A single woman, she decided she didn't want to marry but wanted to study art. She left school after 9th grade as there was no high school in the village. She persuaded her parents to let her apprentice in the nearby artists' village of Ein Hod, where she was taught by the quintessential Israeli artist, Mordecai Ardon. Whilst in Ein Hod, Frida also learned how to weave tapestry and she became involved in a weaving project making tapestries based on the sketches of Israeli artists, including Ardon. Their work was so popular they began to receive commissions for tapestries to be used as ceremonial art in synagogues. Consequently, Frida began to create torah mantles (covers) and parochets (the curtain that is hung in the ark containing the torah scroll). Her creations now hang in synagogues all over the world. Where else except in Israel could you find a Druze lady making Jewish religious artifacts?
Frida invited us into her home to show us some of her handiwork as well as to explain her latest project. She brought us into her work room where her loom took up most of the space. As well as her tapestries, she has started a new venture to teach women in the village how to weave carpets. Like her sister Nurah, she understands the importance of giving the local women a chance to earn their own livelihood. She buys the wool from a women's Bedouin co-operative in the Negev, dyes it herself to get the colours she requires and then weaves it into stunningly beautiful rugs. Her loom is divided into two parts, the main part where she can work and a smaller section where her students can watch what she is doing and practice next to her.
Needless to say, my tourists enjoyed both the food and the company tremendously and declared that they couldn't possibly think of returning to Israel without coming back to see Nurah and Frida in Daliyat al Carmel.